Informative and Entertaining
Speaker and Educator
LynnRae's training in Toastmasters and Business and Professional Women combined with her experience and research skills make her a qualified and well sought after speaker on a multitude of topics, including business development, marketing, cooking, baking (gluten-free), living the gluten-free lifestyle and other related topics.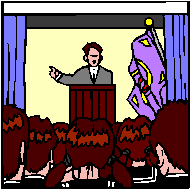 Upcoming presentations:
June 10, Tuesday at 4:15 - Radio Interview of LynnRae, Gluten-Free Creations Bakery and Itsy Bitsy Bistro on channel 1100 KFNX.
July 14 (Monday at 3:00) at Octagon Cafe in Fountain Hills. A new support/meet up group is forming in Fountain Hills. The next meeting is at Octagon Cafe. LynnRae is the speaker. Topic is: What's New in the Gluten-Free World - LynnRae will inform everyone of new medical information, happenings and new products presented at the Gluten-Intolerance Group Conference in Texas.
July 24, Thursday from 6:00 - 8:00 pm at Kitchen Classics. Wheat/Gluten-Free Baking Basics. flours, mixes, binders, leavenings, substitutes, best tools, how to read a gluten-free recipe and more. Enjoy items made with different flours and see the difference in textures when mixing. This class is a Must.
August 16, Saturday from 10:00 - 12:00 noon at Kitchen Classics. Basic Bread Baking using Wheat/Gluten-Free Flours: Looking to bake your own bread? learn the tips and tricks of baking wheat/gluten-free bread in the oven, in the bread machine or even toaster oven. Learn how to increase nutritional value and bind the bread together.
August 23, Saturday from 10:00 - 11:00 at Kitchen Classics. Free demonstration. Learn to make little pastas, baby dumplings, or spaetzle using the Spaetzle Board. LynnRae will demonstrate 4 or 5 different dishes using this board. All simple. All fun and all inexpensive to make.
September 12 - 13, 2008 LynnRae Ries is a Featured Speaker at the Gluten-Free Cooking Expo at the Doubletree Hotel, Oak Brook, Illinois. Her presentation will cover How to Convert Your Favorite Wheat Recipes to gluten-free while Using the Right Tools. This Gluten-Free Cooking Expo is perfect for the novice or experienced gluten-free cook or baker. Join us for cooking demos with samples, gourmet gf breakfast & lunch, gluten-free product showcase and gf beer and liquor tasting. For more information and to register visit: www.glutenfreeclasses.com or call 708.763.8255
Previous presentations:
Whole Foods Paradise Valley Lecture Series 2004
Internet chat on Celiac and Diabetes
Support Groups and Organizations throughout the United States
Libraries and bookstores throughout the United States


October 2007 Celiac Sprue Association Convention: Turn any recipe into gluten-free.


November 5, 2005, North Texas Gluten Intolerance Group. Basics of Baking Bread Presentation.
September 25, 2005 11:30 am Tucson Celiac Sprue Association. Spaetzle (baby dumpling board) demonstration, Fast Rolls in the Oven demonstration - along with variations, Baking with a Mix Presentation.
August 17, 2005 6:30 pm Gluten-Free Support Group of Arizona. What is new at Gluten-Free Creations - your Special Diet Bakery www.glutenfreecreations.com.
June 17, 2005 Gluten Intolerance Group Conference. Basics of Baking Bread.
February 19, 2005, Wild Oats Baking Demo - LynnRae speaking at the Raintree Wild Oats location.
A variety of Sprouts locations in Arizona, 2005 the Gluten-Free Lifestyle.


June 2004 Minneapolis, Minnesota. Basics of Baking Gluten-Free Bread.
June 4-6, 2004 GIG Conference, Portland Oregon. Book signing.
May 23, 2004 CDF Food Fest in California.
April 21, 2004 7:00 pm Gluten-Free Support Group of Arizona. Tips on Dining Out Wheat-Gluten-Free.
March 26, 2004 at 2:00 pm Florence, Arizona Library. Presentation on Living the Gluten-Free Wheat-Free Life.
March 16, 2004 7:00 pm Whole Foods Market Paradise Valley, Arizona Gluten-Free Lecture Series Introduction to Baking Gluten-Free Wheat-Free: Information on the different flours available such as amaranth, teff, quinoa, various rices, millet, Montina and more; the wide variety of starches - tapioca, plantain, manioc, potato and sweet potato; methods for using the various flours, starches and gums; how to create a mix; and a mini bread baking demonstration.
February 18, 2004 7:00 pm Gluten-Free Group of Arizona. Part of Panel Presentation on What We've Learned while Living the Gluten-Free Life. Meeting held at Chandler Hospital.
February 17, 2004 6:30 pm Whole Foods Market Paradise Valley, Arizona Gluten-Free Lecture Series Gluten-Free Wheat-Free pasta dumplings (spaetzle) made extremely easy and flavorful. Presentation and tasting along with sauce and salad.
January 17, 2004 Orange County CSA Support Group. Basics of Baking Gluten-Free Bread. Samples of Pumpernickel, Boston Brown Bread and Basic Soft Rolls were given as well as handouts. Attendees comments were: "One of the best presentations", "I learned a lot about baking - and I don't bake bread", "Thank you for such a splendid presentation. I recommend it to everyone."